Red Hawk HOA Weather Station
Hosted by Herb & Melitta Strandberg -- 208-466-7666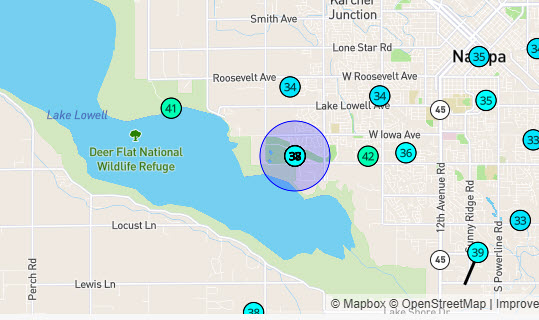 Snapshot of stations map. RedHawk station is in the big blue circle.
The following two links provide two views of the weather data collected by our weather station located at the far east end of W Buteo Drive. One link is hosted by Ambient Weather, and the second link is hosted by Weather Underground - same data presented differently. You may want to bookmark these two websites, but come back and visit this page for other features and enhancements. My favorite is Weather Underground -- but don't overlook Ambient Weather.
Weather Underground (WU)- Station ID WIDNAMPA111 (Weather IDaho NAMPA 111)
The additional links below provide different views of the Nampa weather. You can also find these links, and many others, on the above Weather Underground pages.
Weather Underground (WU) and Ambient Weather applications are available on both IOS and Android devices.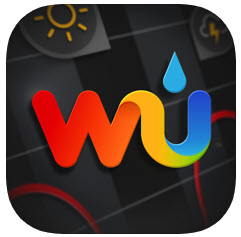 Weather Underground provides the world's most accurate hyper-local weather forecasts in addition to an interactive doppler weather radar, satellite maps and severe weather alerts. Powered by our unique community of weather enthusiasts reporting live weather data from over 270,000 personal weather stations, this crowd-sourced data generates accurate forecasts targeted to your precise location for your microclimate.
My station is solar powered and the data it collects is transmitted wirelessly into my home, where a display receives the data, formats it, and transmits it via WiFi and the internet to the two hosting services -- every 16 seconds to six minutes, 24 hours a day.
Before moving to Red Hawk Ridge in June, 2019, I operated a weather station in Roseville, CA for 10 years. The older equipment required a PC to be running in my home for 10 continuous years!!! Sacramento's ABC10 local weather on their TV news use to report "Herb in Roseville reports ...."! I no longer need to dedicate a full-time PC to my new weather equipment!!!
Watch for additional enhancements announced on this web page. This new station was installed in early November, 2019. For the remainder of 2019, Year-to-date information, especially rainfall will not reflect the first 10 months of 2019.
Many tips will be documented here in the coming weeks. Also watch for a weather camera looking over the Red Hawk Ridge Golf Course and the beautiful sunsets.